Posted by Vivo Hair Salons on 6th Jul 2023
Tame the Mane Game: Discover the Qiqi Smoothing
Revolution at Vivo Hair Salons!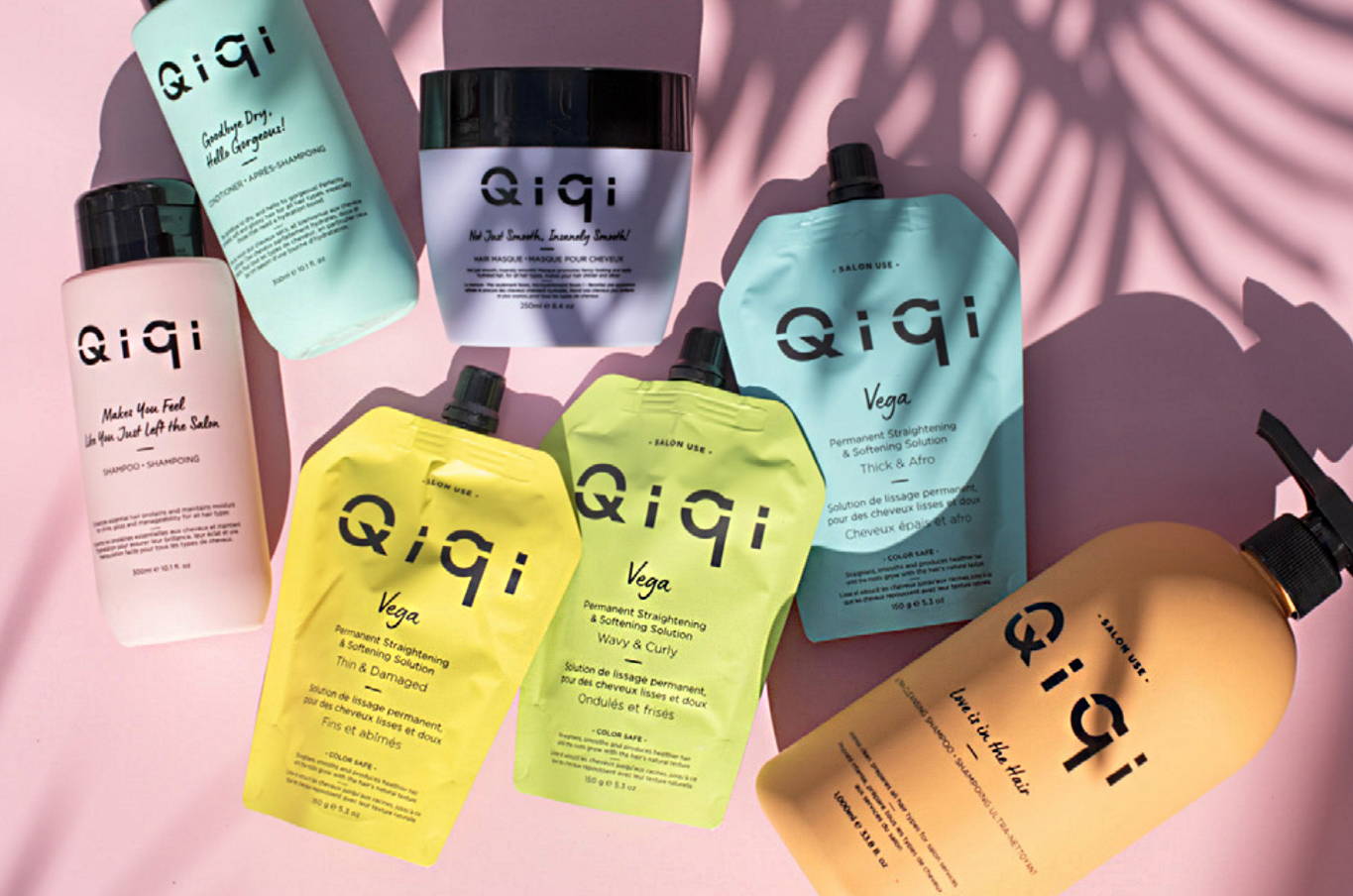 Are you dreaming of silky-smooth, shiny hair that is free from frizz and easy to manage? Look no further! Vivo Hair Salons proudly introduce the game-changing Qiqi smoothing treatment to our service roster (alongside the Kerasilk Keratin Smoothing Treatment with its improved formula), a revolution in hair care now available nationwide. Qiqi promises to deliver the beautiful, smooth, and frizz-free hair you've always dreamed of.
Why is it quickly becoming a must-have service in Vivo across New Zealand? Keep reading to find out!
What is the Qiqi Smoothing Treatment?
Qiqi is free of harsh chemicals which can damage hair, instead hair texture is gently transformed while complementing additional services such as colour. Resistant to chlorine and salt, Qiqi utilises a unique proprietary technology that can permanently transform all hair types.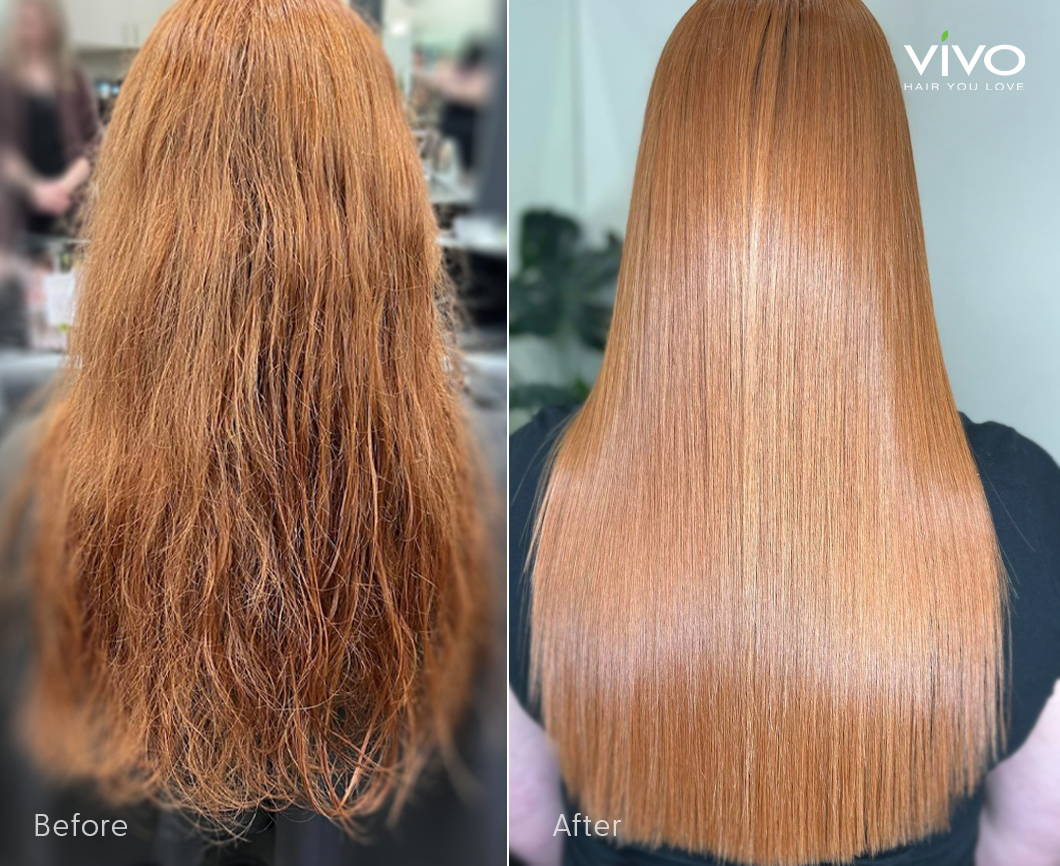 Benefits of the Qiqi Smoothing Treatment at Vivo Hair Salons
Frizz-Free Curls: Qiqi smoothing treatment redefines curls and tames unruly, frizzy hair and gives it a polished, glossy look. It eliminates frizz even in the most humid conditions, making it a perfect choice for all seasons.
Shiny and Healthy Appearance: This treatment improves your hair's texture, giving it a shiny appearance. It enhances your hair's natural beauty which can make it look healthier and more vibrant.
Reduces Styling Time: As Qiqi makes hair more manageable, you can significantly cut down your hair-styling time in the morning.
Safe for All Hair Types: Whether you have thick, curly hair, or thin, straight hair, Qiqi smoothing treatment is safe and effective for all hair types (yes, we have the right Qiqi treatment just for you!).

A FORMULA FOR ALL HAIR TYPES
Thin & Damaged: Has your hair gone through the wringer? Sun damage, multiple colour treatments, or constant use of heating tools can leave your hair looking lifeless, brittle, and with split ends. Our Thin & Damaged Qiqi service can nourish and help repair your hair, restoring it to its original glory and giving it the smoothness it deserves. Say goodbye to the bad hair days and hello to a new, shiny, and healthier mane!
Wavy & Curly: Embrace the natural beauty of your waves and curls while enjoying the smoothness you've always desired with our Wavy & Curly Qiqi service. Perfect for both virgin and coloured hair, this treatment will help tame your locks, reduce frizz, and add a glossy shine. It's time to rock your curls and waves with confidence and ease!
Thick & Coarse: If you're struggling with thick, dry, or extremely curly hair, our Thick & Coarse Qiqi service is the game-changer you need. This treatment penetrates deep into your hair, softening your strands, and making them more manageable. Unleash the beauty of your thick hair with Qiqi's smoothing magic!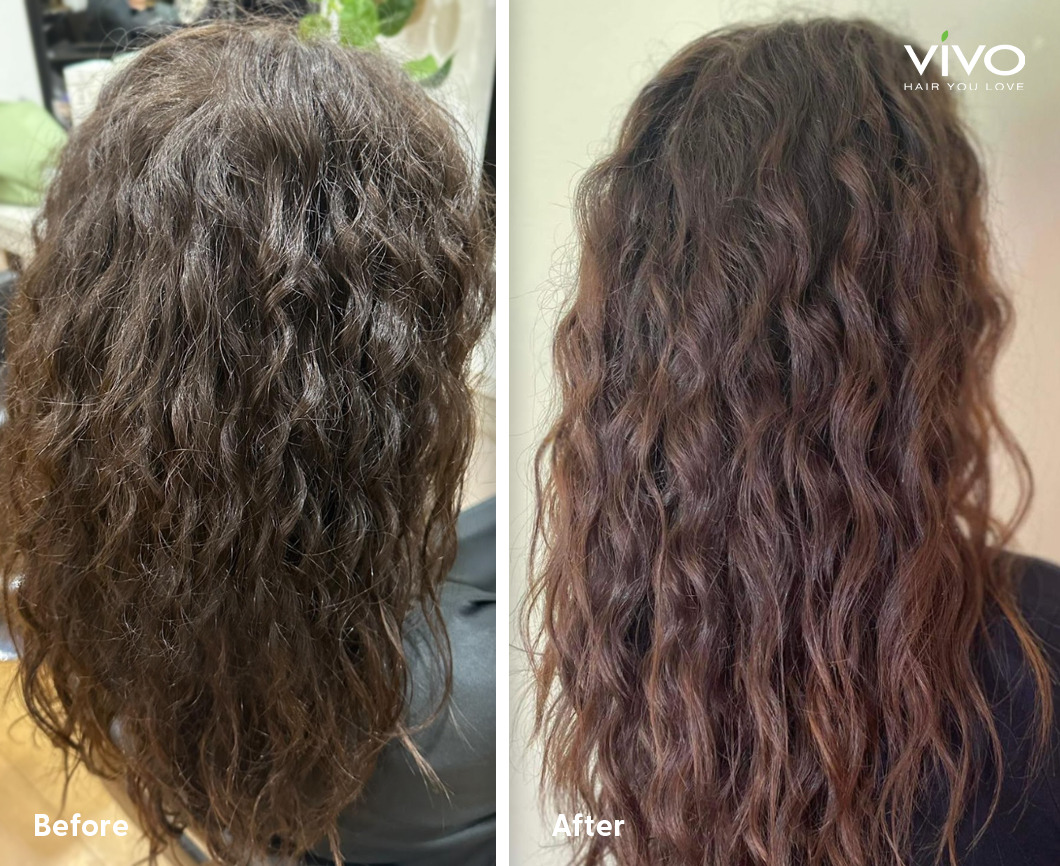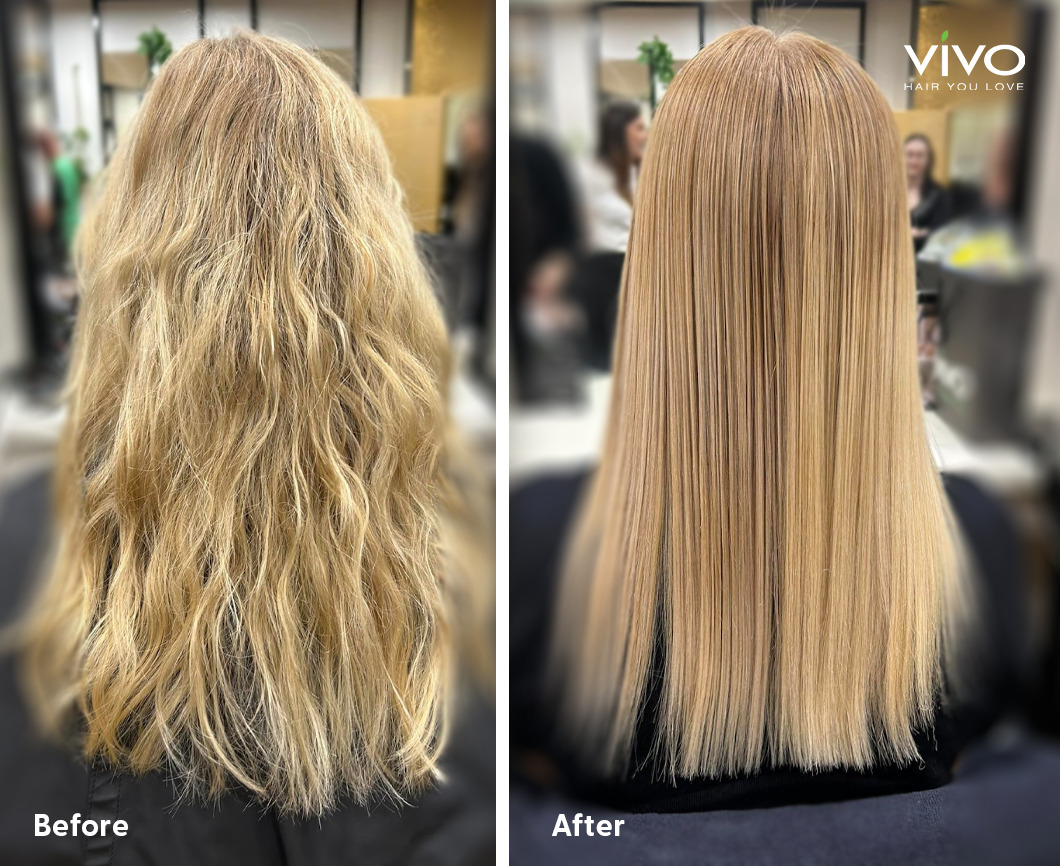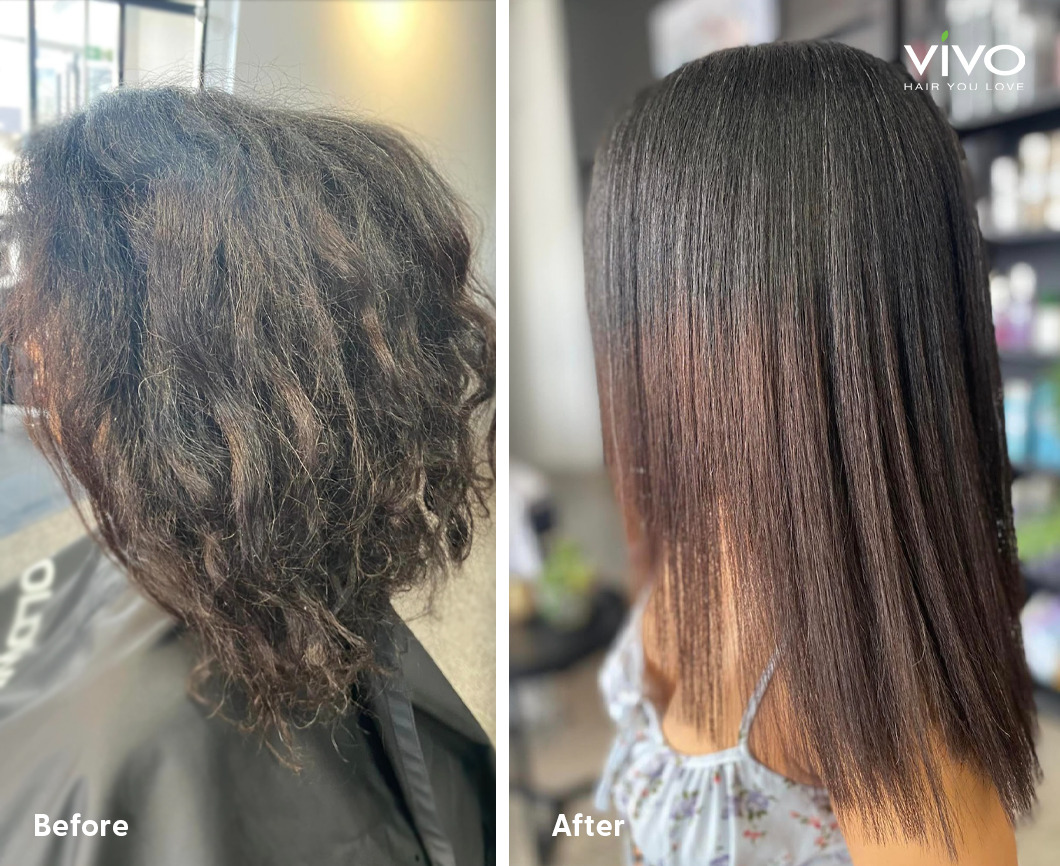 How does the Qiqi smoothing treatment work?
Qiqi is made of safe organic components with no dangerous effects. The exclusive formula penetrates the cortex and reshapes its structure safely without any concern of hair breakage or drying.
How long does the Qiqi smoothing treatment last?
The Qiqi service has the abilitly to permanently transform your hair into its new shape, depending on your hair type, lifestyle, and the aftercare products you use. To maintain the best results, we recommend using the specially formulated Qiqi aftercare products available at your closest Vivo Hair Salon and online.
Is the Qiqi smoothing treatment safe?
Absolutely. All Qiqi formulas are safe and non-damaging formula. However, we do recommend having a consultation with one of our trained stylists who can assess your hair's condition and advise on the best treatment.
If you're pregnant/nursing, we recommend consulting a physician prior to any hair treatment.
Can I get a Qiqi treatment if I have coloured or chemically treated hair?
Yes, the Qiqi smoothing treatment is safe for all hair types, including coloured or chemically treated hair. During your consultation, Vivo stylist will be able to advise you on the best course of action for your specific hair needs.
Can I colour my hair on the same day as my Qiqi treatment?
Absolutely, you can opt to add colour to your hair following a Qiqi smoothing treatment. However, we recommend waiting at least 10-15 minutes post-treatment to ensure the best results. When it comes to bleaching, we advise against it for a minimum of 2 weeks following your Qiqi treatment. Before you proceed with bleaching, come to your Vivo Salon for a strand test to be guaranteed the safety and health of your hair.
How soon can I wash my hair after the Qiqi treatment?
You can wash your hair 10 minutes after the Qiqi treatment (yep, that soon!). We recommend using the Qiqi aftercare shampoo and conditioner to help maintain the smooth and shiny results.
Where can I get a Qiqi smoothing treatment?
The Qiqi smoothing treatment is available at Vivo Hair Salons nationwide. To find a salon near you, call 0800 400 300 or book a free consultation here to start your journey towards smoother, frizz-free hair today.
What is the difference between Kerasilk Smoothing Treatment and Qiqi Smoothing Treatment?
Both Kerasilk Smoothing Treatment and Qiqi Smoothing Treatment are premium hair smoothing treatments designed to combat frizz and deliver a sleek, shiny finish, but they differ in formulation and results. The choice between the two ultimately depends on your individual hair needs and desired results. As always, a consultation with our Vivo Stylist can provide further guidance on which treatment may be most suitable for you!
How much does a

Qiqi Smoothing Treatment cost?
Pricing for a Qiqi smoothing treatment varies based on individual factors such as hair type, length, thickness, and specific hair goals. During your free consultation, your Vivo stylist will assess your needs and provide you with an accurate pricing estimate.
Our experienced stylists at Vivo Hair Salons are ready to answer any more questions you may have about the Qiqi smoothing treatment. We are dedicated to providing top-quality services and ensuring our clients are fully informed about the treatments they receive. So, don't hesitate, ask us anything about Qiqi at your free consultation - book online below or call 0800 400 300 to secure your spot!
Read more from Our Blog...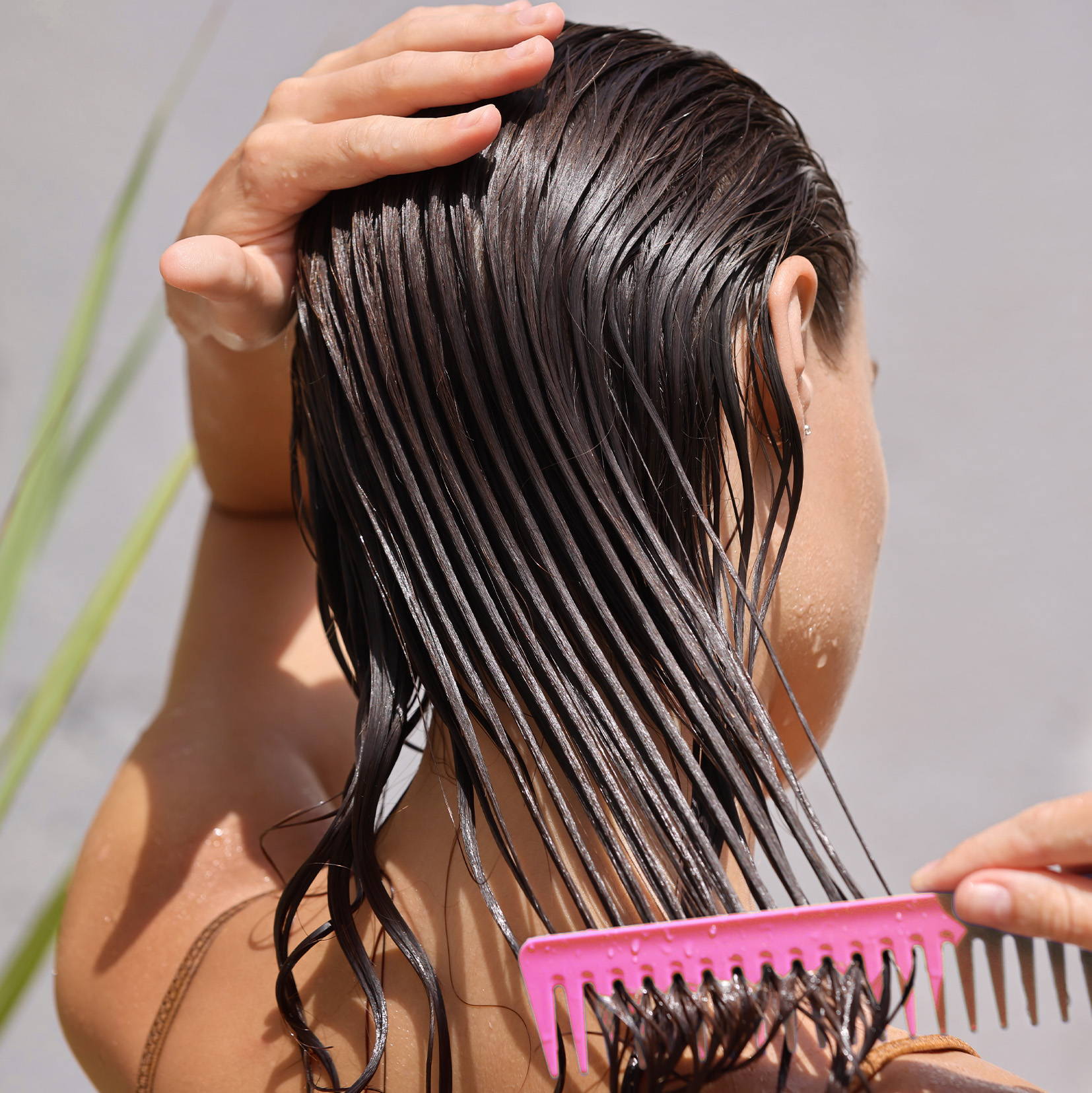 How do you fix dry hair? Employing simple hair care techniques using the best hair products in the New Zealand market is a great place to start. Are you ready to fix your dry hair for good? If so, keep reading!
Read More