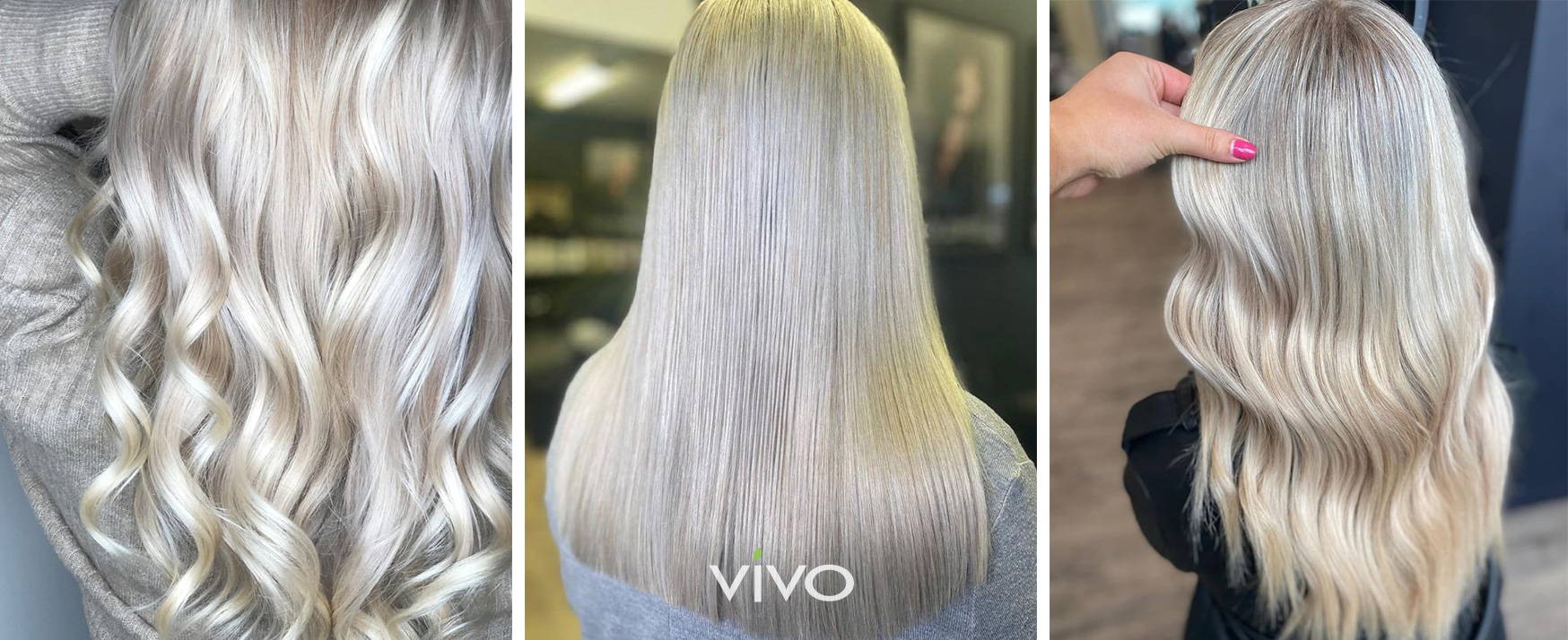 Let us lay the world at your feet with a head-turning professional Blonde Makeover.
We'll provide you with a stunning new look in a beautiful shade of blonde. A shade that is perfect just for you. Whatever your style, hair, eye or skin tone - there is a Perfect Blonde waiting for you.
Going blonde is a serious business. Trust the experts. With over 70,000 happy returning clients, we're confident that you'll love what we do.
VIVO Promise & No-Surprise Guarantee
When you visit VIVO we promise hair you love, guaranteed. And if your service is going to cost extra (for example, for long/thick hair), we will tell you before we start, or you don't have to pay it.
Will blonde look good on me?
Blondes are like roses, the variations are infinite. Blondes can be warm, cool, neutral or a mix. Light and luminous like freshly fallen snow - rich and intense like old gold - or deep, dark and sensuous like thick meadow honey.
Sophisticated, dramatic, glamorous, playful, carefree, bold, daring, delicate, angelic, mysterious - whatever you're after, there's a shade of blonde for it.
While not every blonde may be right for everyone - for everybody there is their perfect blonde, waiting to be unleashed. Come to us and we'll help you find it!
How blonde will I be?
It would depend on your hair. We can do lightening ("lifting") of up to 5 shades ("levels") in one sitting to prserve the integrity of your hair. That can take you from Level 1 to Level 6 (natural black to caramel) or Level 5 to Level 10 (natural light brown to platinum). With the Foils option, you can vary the degree of lifting between strands. Depending on your hair and desired result, we may perform a strand test before appointment (lightening a small fine strand from the back section) to guide our recommendations.

IMPORTANT NOTES:
- To ensure we preserve the health and integrity of your hair, we will lighten only up to 5 shades per sitting. As everyone's hair pigmentation and condition differ, the degree of lifting possible in one go varies per client. We will discuss in detail before we start, to create for you the look both you and your locks will love.
- Levels System diagram can be used for natural and pre-lightened/toned hair. If you've had semi or permanent colour, we highly recommend you come in for a free consultation first. Natural pigment and hair dye have a different chemical structure and undergo lightening very differently. We'd need to see your hair to advise what results we can safely provide in one visit.
Will my hair end up yellow?
Not unless you want it to!
A common concern, but rest assured - we'll give you a custom-made shade that's right for you. This is what the Toner step is for - to correct the tone of your colour after the lightening.
When natural pigment is lifted, you see the undertone corresponding to the level you've lifted to. This is then corrected with toner to achieve the desired shade, warm, cool or neutral.
Does blonde include warmer colours?
Absolutely. Delicious shades of honey, caramel, peach and strawberry blonde await! We can also work with natural warm-toned hair to lighten, spruce up and give dimension to your chestnut, copper or ginger locks.
How does lightening work with grey hair?
Lightening can do wonders for camouflaging emerging silver, white or grey strands. Subtle shading and a multi-dimensional lighter shade mean a more natural look and softer regrowth line than with an all-over permanent colour.
I'm already blonde - can you update my look?
Yes! We can revive blonde tones that are too warm, too cool, dull or mousy, too pale or too dark. We can add dimension and depth to a flat colour, or even out a blonde that's too contrasting.
Hair previously treated to a semi or permanent colour may require additional colour correction treatments to achieve your desired look. We'd love to see you for a free consultation.
Is this a high-maintenance style?
Foiled and multi-toned styles allow for a softer regrowth line than a global lightening. Depending on your chosen look, natural colour, speed of hair growth and how you feel about showing some roots, we recommend a colour touch up and trim every 6-10 weeks.
Follow-ups tend to be quicker and less expensive than the initial visit, as we'd be seeing you mainly for root touch-ups or partial foils with toner.
Blonde hair loves TLC! We'll explain all about how to look after your newly luminous locks to keep them strong, silky and shiny. The gist is simple: go easy on hot styling, heavy on hydration, and stock up on colour-focussed hair care!
We'll tailor your cut to work with your natural hair texture, so you won't have to spend hours in the morning to make your hair into something it isn't.
When can I have my appointment?
Although opening hours vary slightly per salon, every VIVO salon is open Tuesday through Saturday. Late night and weekend appointments are available.
Please see salon opening hours here.
To check appointment availability, please call 0800 400 300.
What is the background of VIVO Stylists?
To join the VIVO team, all stylists must pass a comprehensive trade test where they demonstrate their mastery in cutting, colouring and styling. All Stylists then undergo continuing education with our national Training and Development Program. This covers both technical aspects, including all classic hair services and brand new innovative techniques in cutting, colouring and styling - and VIVO philosophy, which is centered around understanding the Client needs and desires, and tailoring a personalised style just for them.
This way, you can count on every VIVO Stylist to deliver the VIVO Experience every time.
What products will you use for my hair?
For hair-care, colouring and styling we use only the professional Goldwell products. Goldwell is an international award-winning brand with more than 65 years of expertise in hairdressing innovation, available exclusively through hair salons. Goldwell are PETA members and do not test on animals.
What about parking?
All our salons have nearby parking. Please ask for details when making your appointment.
Here're some blonde looks by Vivo Stylists for your inspiration!
Vivo Pure Blonde Collection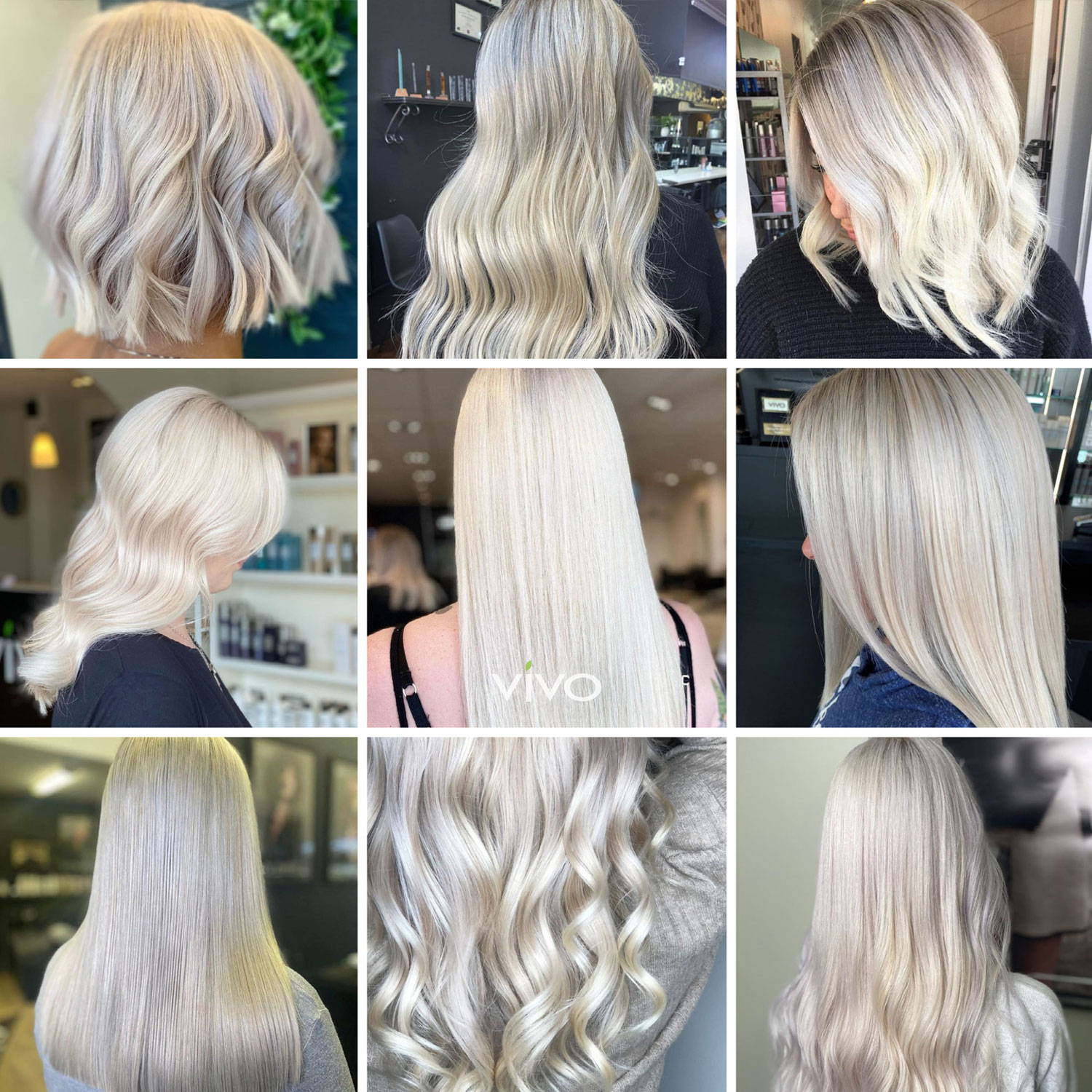 Vivo Lavender Blonde Collection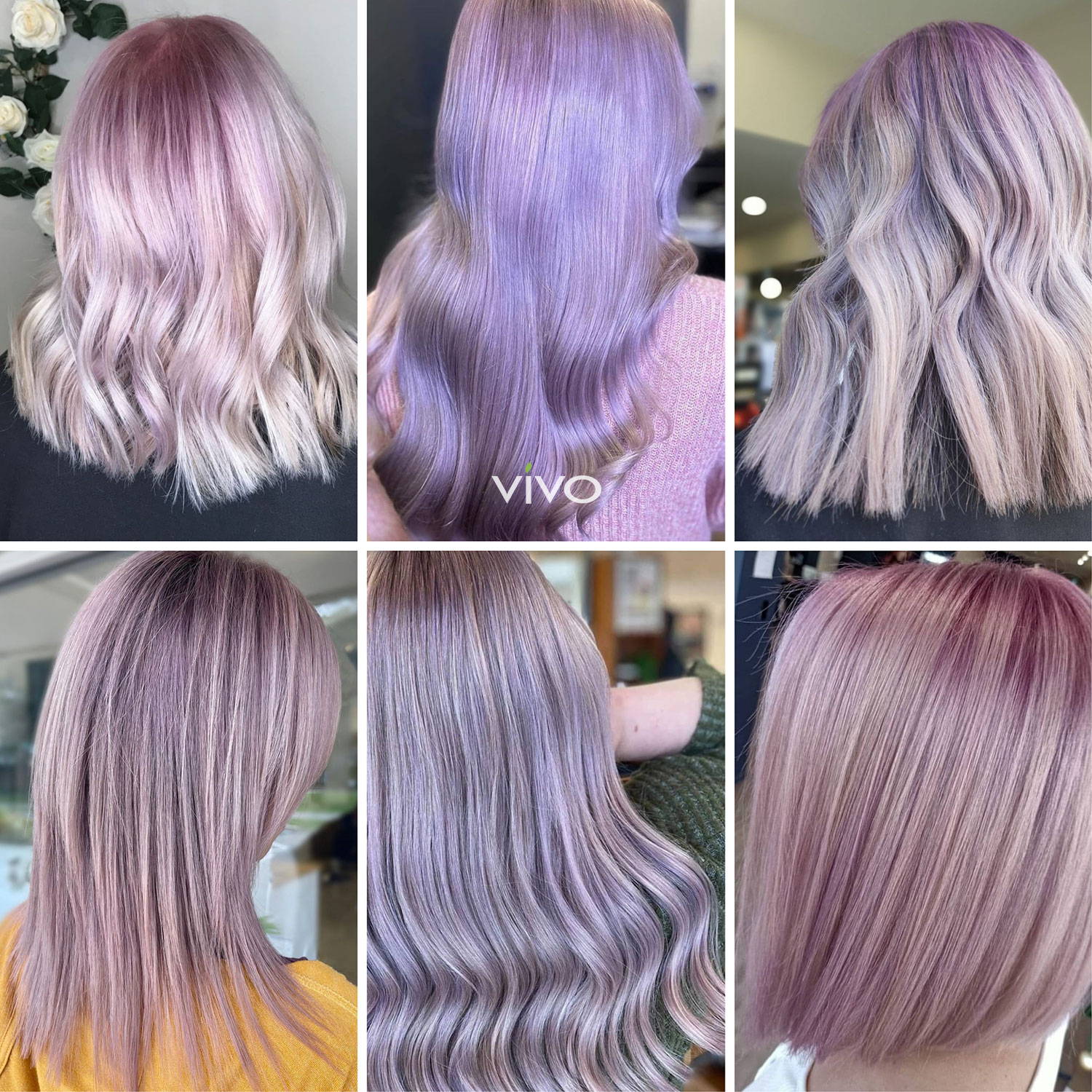 Vivo Pink Blonde Collection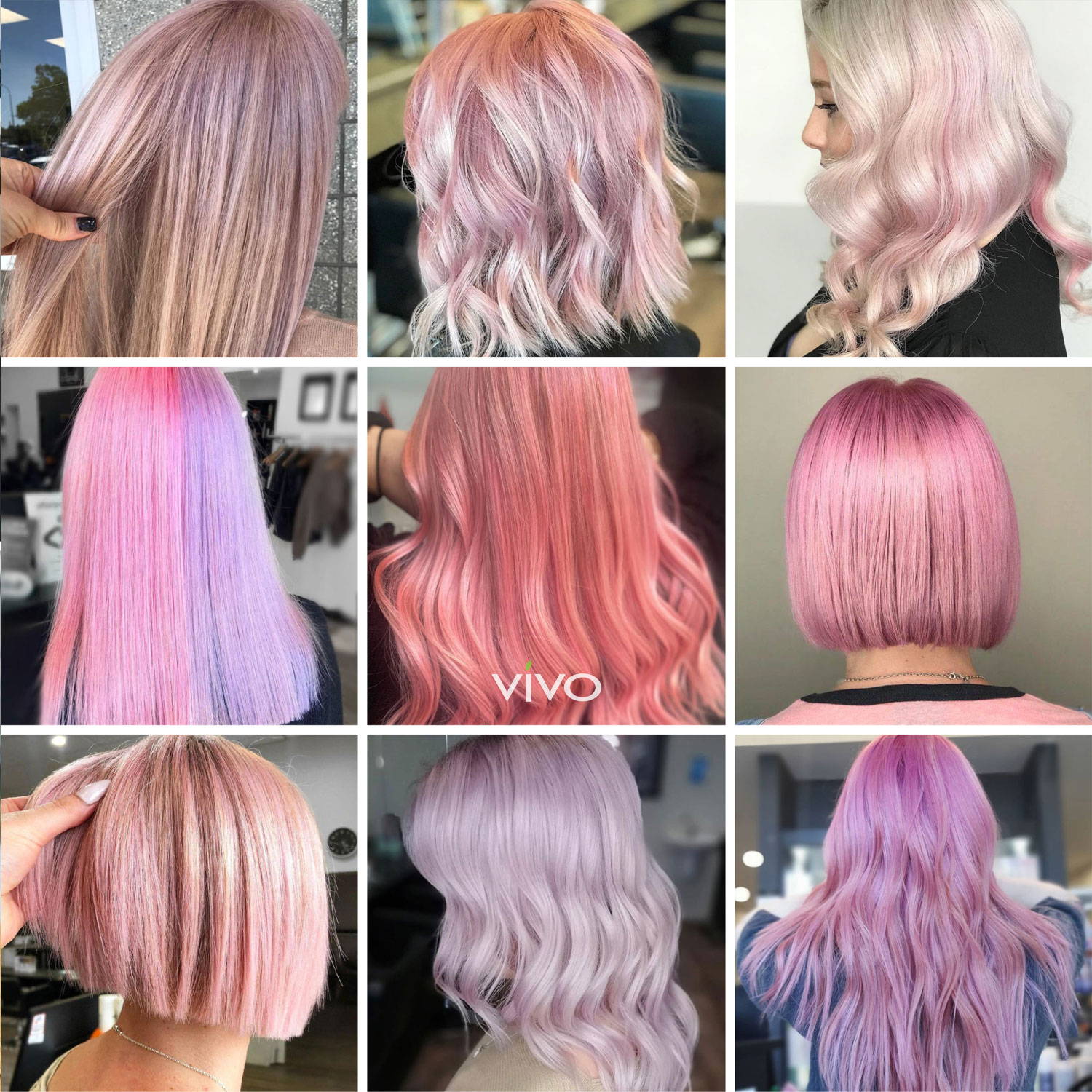 Vivo Grey Blonde Collection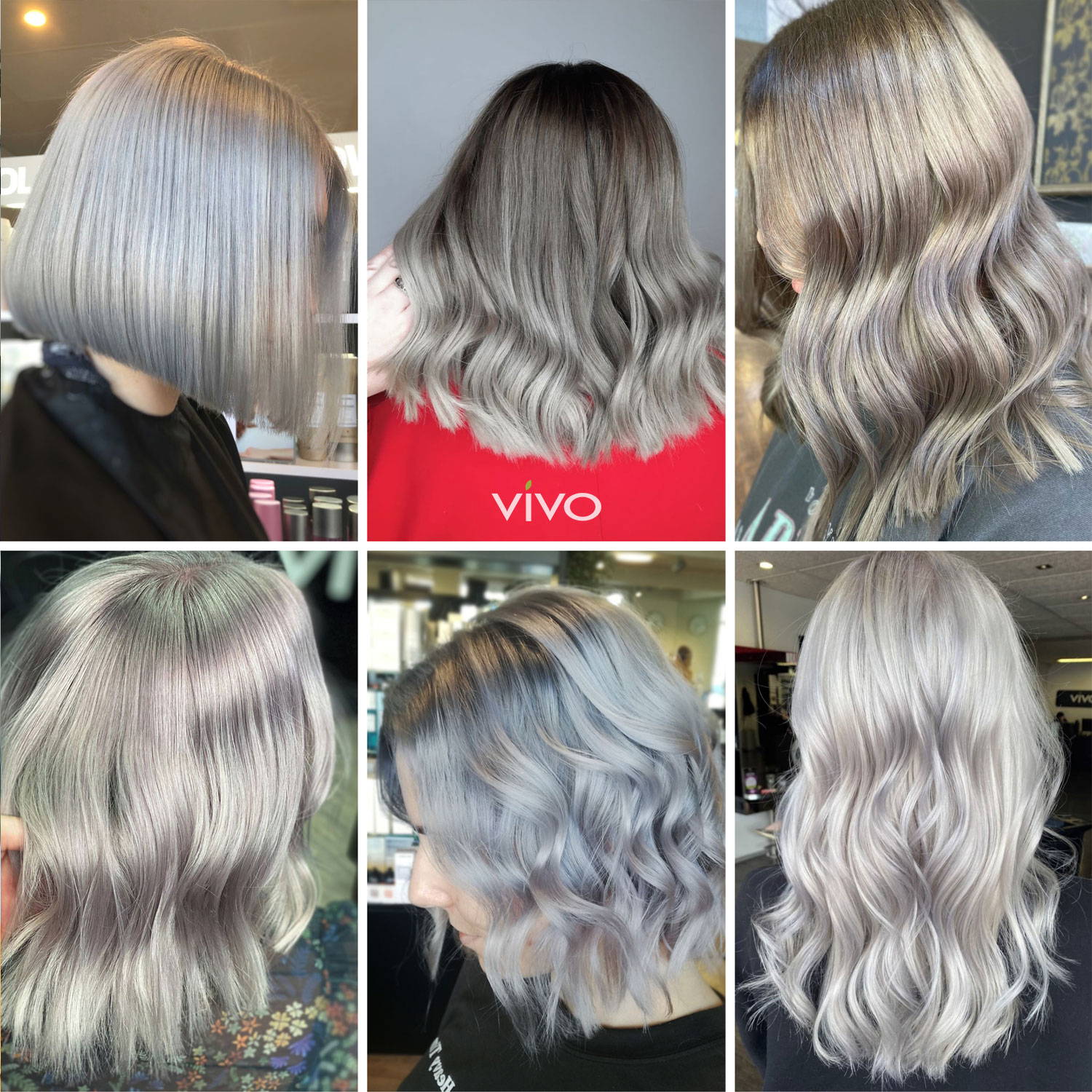 Vivo Peach Blonde Collection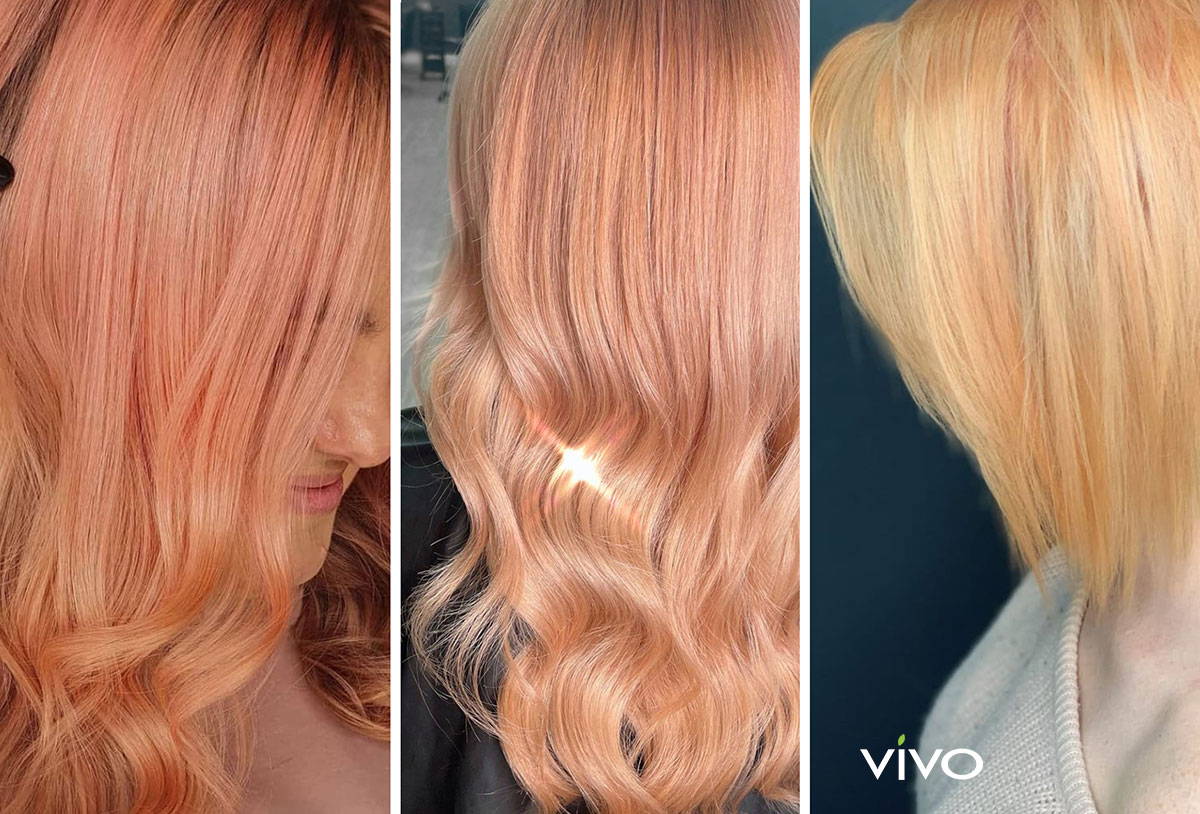 Let's Book You in for a Free Consultation